Includes:
X1 Model 301 Filtration System
X1 Dual Layer Disruptor Filter  (Model AVC-103)
X6 Individual Connectors of various gauge sizes and accessories
X1 2-way valve 22M (FEMALE) 
X1 22M x 24M (MALE) Adaptor
X1 1.1m Hose and Housing Opener
Faucet Size:
Refer to PDF file: Click Here
Read more
Product customization
Refer to the faucet size guide above and input your size. Remember to save your customization before you can add to cart.
The AVAVA filtration system involves an integration of multiple patent applications,
making it the first and only model that requires no electricity or any complicated plumbing.
This integrated filtration and purifying equipment are formulated with special elements in a compact 6-step integrated process to comprehensively filter away impurities and contaminants to dispense Nutrients water.
The Dual Ceramic filtration cylinder comprises of an outer chamber made from safe and reliable Kieselguhr (American-made food-grade diatomaceous porcelain material combined with high-quality Iodine Absorption Activated Carbon, to effectively remove odour and a variety of harmful pathogenic bacteria, viruses and chemical in the water. This dual filtration forms a comprehensive casing that ensures water is effectively purified, tasteless and odourless.
AVAVA* creative filter design has two coupling cores in the inner compartment, whereby
it helps to complement the purifying of the biological reactivating process of the nutrients which is OPTIONAL. You can purchase the nutrients cartridge Model 803
separately.
The body and all accessories of the AVAVA system are materials made of FDA-certified food-grade plastic materials and SUS 304 stainless steel fittings. They are safe, reliable, neat and durable.
The filter can be easily dismantled and reassembled, convenient for use and easy to install. The Filter is durable enough to withstand at least a couple of maintenance cleaning thereby saving the need to discard or replace often.
The Dual-Action Water Filtration Cylinder has a lifespan of up to 5000 litres of water or replaces every 3-4 months depending on the water quality and the environment in a different region.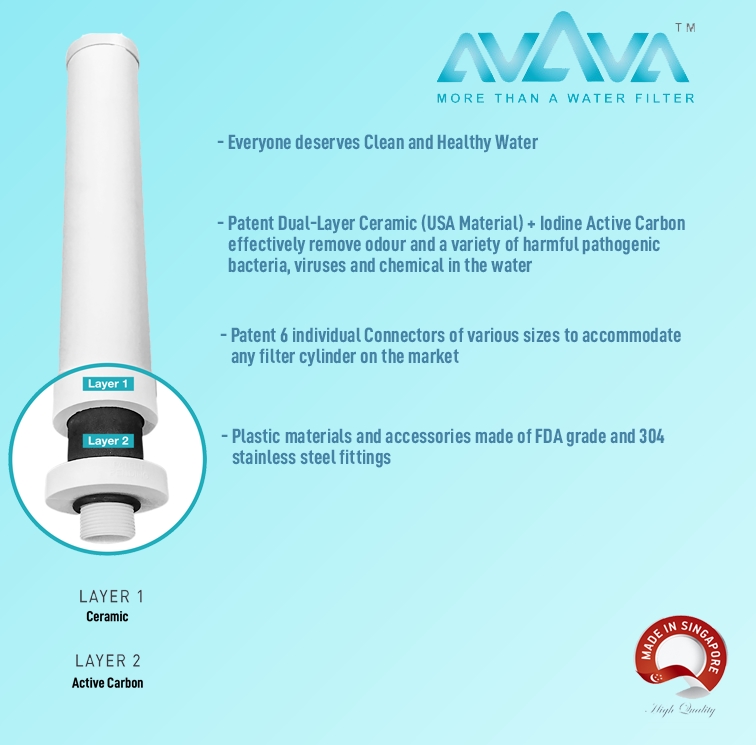 Read more